Classic Eyelash Extensions Training for just $650.
Eyelash Extensions Training by the Licensed Specialists.
Our Master Eyelash Extensions Specialist Zara offers a one day class to teach from the basics of what eyelash extensions are and how to apply them. Our course is for students and professionals with no prior experience.
We will teach you the eyelash extensions growth cycle, how to properly apply the adhesive, different lash curls, lengths and thickness. And how to follow proper hygiene during the procedure.
At the end of the day, the students will get to do hands on application on their models.
Our Class Room Sizes
It has been proven that students learn faster and perform better in smaller classes. A small classroom size results in more individual attention, increased participation, and better communication between the instructor and students.
After Training Support
Our teaching does not end once the training is over. We provide unlimited support to all our students. Our students can attend any of our classes again if they want to for free or charge. We also allow them to come and shadow us and learn during our regular Eyelash Extension sessions.
We encourage our students to call us or send us pictures anytime for questions they have with the products or issues with their clients with Lash Extensions.
Classic EyeLash Extensions Training is a one day training. We charge an addon of $150 for Kit. Here is what you will get and learn during the class.
Booklet. For our Spanish speaking students, Spanish translated training materials are available upon request. (El material de formación en español está disponible bajo petición)
Eyelash growth cycle.
Different types of eyelash extensions.
Understand different Eyelash Extensions Curls, Thickness and Lenghts.
Eyelash Extensions Mapping Techniques.
Client consultation forms.
After care forms & hygiene.
Eyelash Extensions application process.
Eyelash Extensions fill process.
Eyelash Extensions removal process.
Perform Eyelash Extentions on your Model.
Training completion certificate.
Links to buy any additional supplies.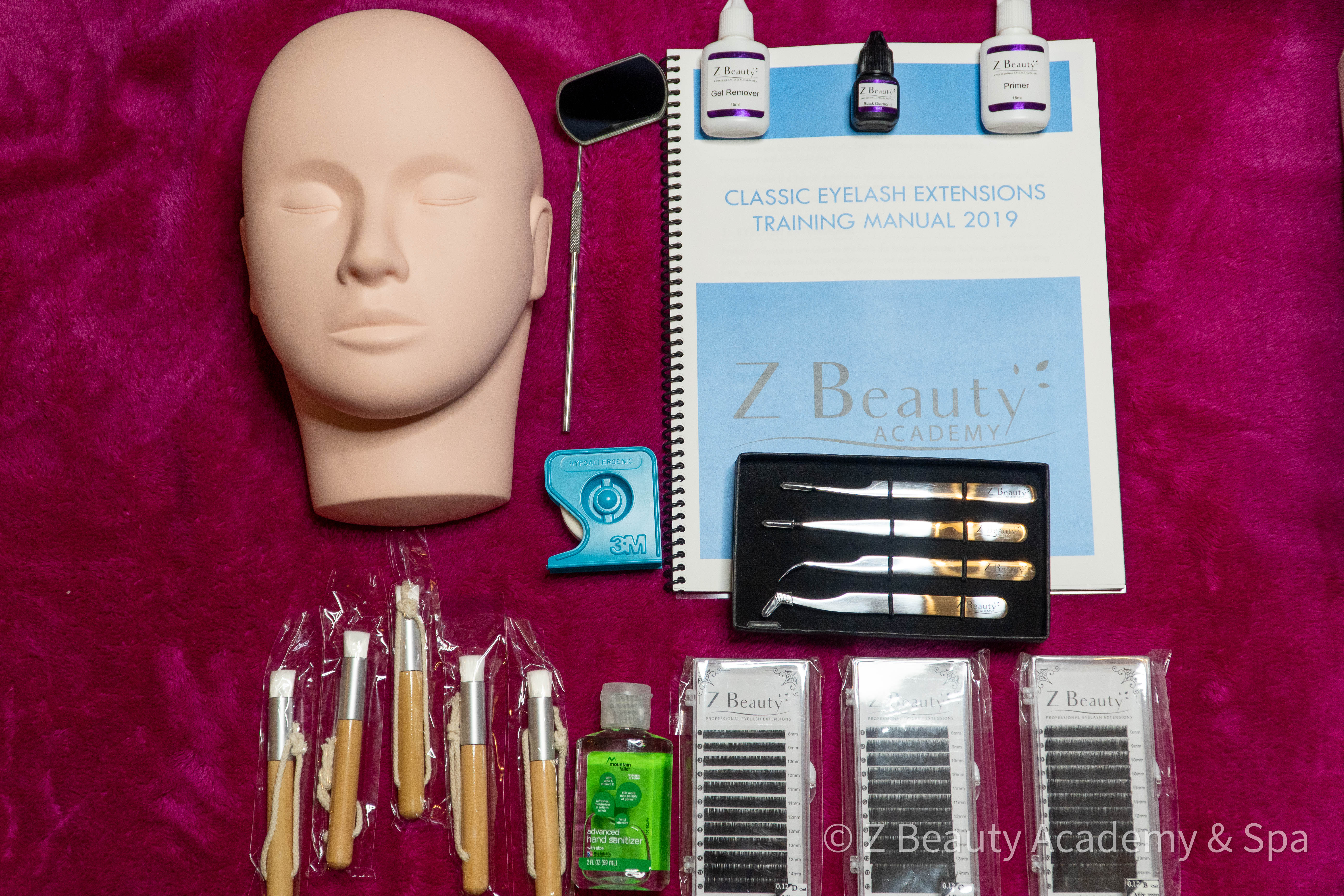 3 Premium mink eyelash extensions mix trays B-curl, (0.12mm thick), C-curl (0.15mm thick ), D-curl (0.12 mm thick) and lengths from 8 – 15 mm (enough for up to 50 client applications)
Premium Adhesive 5 ml bottle (enough for up to 50 client applications)
Premium Gel Remover (enough for up to 100 client applications)
Premium Primer (enough for up to 100 client applications)
Premium Straight Tweezers
Premium L-shaped Tweezers
Roll of Surgical Tape with Dispenser (enough for up to 50 client applications)
Pack of Mascara Wands (enough for up to 15 client applications)
Pack of Microfiber Brushes (enough for up to 5 client applications)
10 Sets (20 individual) of Premium Collagen Enriched Gel Patches
EyeLash Extensions Training Policies
As we offer both group and one-on-one Classes, the addon for Individual Training is only $200.
Please keep in mind lot of planning and scheduling goes in place. We print all the booklets and buy kits for the students that attend the class. For this purpose we take a deposit of $200.
Scheduling Policy
A flat $200 scheduling fee is collected for Eyelash Extensions Training respectively when you make the appointment online or over the phone.
The scheduling fee is non refundable.
Rest of the $199 Training fee is due week before the class. The students will not be allowed to take the class until the rest or full fee is paid.
No Show Policy
Z Beauty Academy & Spa is not responsible to return any fee the student paid in case the student failed to attend the class or inform in advance and make necessary arrangements atleast 48 hours before the scheduled class.
Rescheduling Policy
Unless the student gives 48 hour notice, all the fee paid by the student is non refundable. In case the student has to reschedule the class, the student needs to give atleast 48 hour notice to Z Beauty Academy & Spa and Z Beauty Academy & Spa is totally happy to reschedule the class free of charge.
Cancelled Class
Sometimes due to unseen circumstances, Z Beauty Academy & Spa might have to cancel or reschedule the class. If for any reason we cancel the class, the students will be refunded 100% of the fee. If we have to reschedule, Z Beauty Academy & Spa will give the option to the students either to receive the 100% refund or to reschedule the class for free.
Non Refundable Policy
All the services provided by the Z Beauty Academy & Spa are non refundable. This includes the training and the kit provided during the training.
| Service | Price |
| --- | --- |
| Group Classic (Max 4) | $650/person With Kit |
| Group Volume (Max 4) | $850/person With Kit |
| Group Mega Volume (Max 4) | $950/person With Kit |
| Two Day Classic and Volume Training | $1500/person With Kit |
| Two Day Volume and Mega Volume Training | $1600/person With Kit |
| Three Day Classic, Volume and Mega Volume Training | $2100/person With Kit |
| Unlimited After Training Support | FREE |