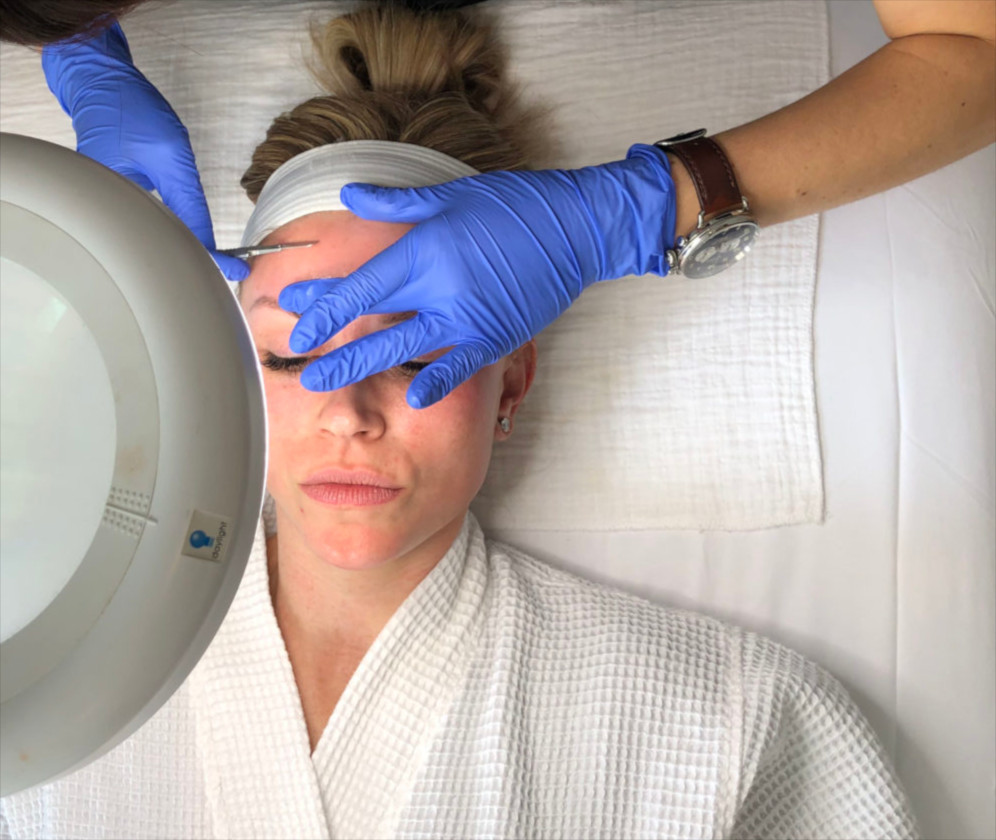 Microneedling, for Total Facial Rejuvenation.
When you want a total facial rejuvenation, accomplish it with microneedling. At Z Beauty Academy & Spa, this innovative procedure enhances your body's natural healing response, stimulating the production of collagen and elastin, which strengthen the skin and give it a youthful appearance.
Microneedling is a minimally invasive procedure, microneedling stimulates your body's natural healing response, leading to an increase in collagen and elastin production. At Z Beauty Academy & Spa, we use tiny, hair-thin needles to create micro-injuries across the surface of your skin.

Because of these injuries, your body begins its healing process, which naturally renews skin and smooths its texture. Because microneedling leads to an increase in collagen and elastin, skin becomes fuller, and the appearance of fine lines and wrinkles is reduced.

Often called collagen induction therapy (CIT), microneedling can be used on your:
Face
Neck
Chest
Arms
Hands
When you see us at Z Beauty Academy & Spa, we may recommend microneedling for total skin rejuvenation and to treat a variety of ailments, including:
Fine lines
Wrinkles
Acne scars
Traumatic scars
Loose skin
Stretch marks
Skin texture
Dark pigmentation
Melasma
Reduce pore size
How does microneedling work?
At Z Beauty Academy & Spa, we use a state-of-the-art device that creates micro-injuries with tiny microneedles. These needles activate your body's healing process, including collagen and elastin production which volumizes your skin, making fine lines and wrinkles less noticeable.

As part of this healing process, damaged cells are attacked and replaced, reducing the appearance of scars, dark pigmentation, and other facial flaws. Skin's texture and tone are also improved.

Depending on your specific skin conditions, we may apply a skin serum during your microneedling procedure. This enhances treatment effectiveness and gives you added benefits for specific issues, such as acne or dry skin. Common serums include:
Hyaluronic Acid Serum relieves dehydrated and/or sensitized skin. Aids in cell regeneration and skin hydration. Protects against external irritants such as air pollutants, and bind water into deeper layers of the epidermis.
Oligopeptide Serum treats hyperpigmentation for a more even skin tone. Helps control melanogenesis, reduce pigmentation spots, and inhibit skin redness for a brighter and more balanced skin tone. This also significantly reduce melanin production and lighten and brighten skin.
Retinol 1% IonActive Serum firms and reduces visible signs of skin aging. This improves skin texture, appearance of wrinkles, increases collage and skin firmness.
Niacinamide IonActive Serum controls and prevents adult acne. Inhibits the growth of bacteria, decreases the formation of hyperkeratinized follicles (clogged pores) and reduces swelling and inflammation by scavenging toxins and free radicals in the skin. Helps control sebum production.
How many microneedling treatments do you need?
Your skin issues and their severity determine the number of microneedling treatments. In most cases, we recommend 3-6 treatments, with at least four weeks in between each session.

Some conditions, such as acne scarring, may require more treatments.

Initial results are noticeable around four weeks, while you reach maximum benefit between 3-4 months.

If your skin looks dull and tired, rejuvenate it with microneedling. Z Beauty Academy & Spa today to learn what it can do for your skin. Call the office or book your consultation online.