TL;DR Conclusion: Your eyebrows give an all-new dimension to your face. We recommend this beauty technique for every woman who is looking for a semi-permanent solution. Microblading works for everyone including the women with zero eyebrows resulting from chemo or alopecia and those who have naturally blonde or faint brows.
Bushy, arched and bold eyebrows are a promise of a groomed look even without putting on any makeup. Some women don't have thick brows naturally. Others may lose their eyebrows with age or by over-plucking. As a result, they are left with narrow-looking and sparse eyebrows. Women all over the world have been using various methods to get dense and fuller eye brows. These methods include inking or penciling of brows and facial injections to get an illusion of thicker and bushier brows. With advancement of technology, several new techniques (brow tattooing, brow extensions) have been introduced in the realm of makeup and beauty. Eyebrow microblading is one of them.
What is Microblading Brows?
Also known as 'eyebrow embroidery' microblading is a semi-permanent procedure that gives boost to your thin-looking eyebrows. It's all about a brow tattooing technique to get your brow hair reshaped or reconstruct completely. This is something that is getting common with each passing year. Numerous celebs opt for microblading but obviously, they would never like to reveal it to their fans. Here is what Laura Choate, owner of Santa Monica Microblading in LA, revealed in an interview (to Daily Mail) about the ageless celebrity Madonna,undergoing microblading;
"Through both age and over-plucking in the past, Madonna would have lost some natural hair. She has used micro-blading to fill in these gaps, and create a whole new shape, and they look great."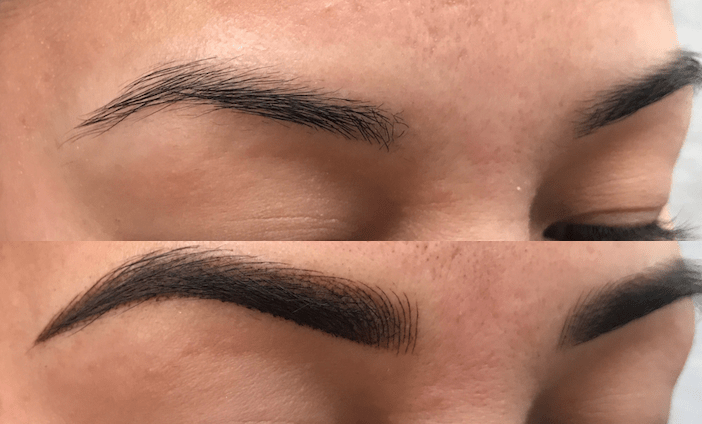 How does Microblading Work?
Microblading involves a sharp scalpel-like tool. This tool is used to fill those empty gaps between your eyebrow hair in the most natural way. The specific microblading tool is filled with ink to draw hair-like strokes in the empty spaces. The tattooing pigment is implanted in the outer layer of skin. If done skillfully, no one can guess your brows to be resulted from some artificial tattooing technique. The technician mixes the shade that suits the best (or you can pick the one of your choice). Normally, the effects of the brow tattooing last about three years. But your technician might suggest you to visit him for occasional touchup session after every 6 months to a year (period may vary with each technician).
Is it a Painful Procedure?
Not really. Women often ask us about the painfulness of the procedure. It does not pain rather you might experience some discomfort or pinching sensation. Before kicking off with the final procedure, an anesthetic cream is applied to ensure less sensation. Once you are done with microblading, apply some barrier cream or soothing ointment on your brows. It may take about a week or two in complete healing of the tattooed area (even a month is not an exception). The healing process may vary with each customer.
Not Suitable for?
Everyone can try it. But people with thinner skin may bleed more while undergoing this process. Those using some blood thinning items like alcohol, aspirin and retinol, are advised to stop using them about a week before undergoing microblading.
How Long Does It Take?
If you think it to be a short process, you are wrong. It would take about two hours (maybe three) for the successful completion of tattoo artistry. Normally, the first hour is all about drawing the aimed shape or structure of the eyebrows. The technician would draw lines using a removable pencil. The final hour continues with brow tattooing.

Note:There are several places that claim to get the microblading done within an hour. Do not opt for such places, as it is not possible to complete it in just 60 minutes. Even if you get it done in an hour, it might lack perfection.
Much Needed Aftercare!
Once you are done with microblading, the brows may seem weirdly darker, surrounded by red and swelled area. Do not worry, as time passes, the inflammation disappears and about 30 to 40% darkness fades away, giving you a perfectly natural look. You are recommended to follow some immediate precautionary measures (particularly in the first 10 days) or else you may fall victim to skin infection.
Do not wash your face with water. Moisture not just intensifies the bladed areas but it may dull the tattooed ink, pigmented in your skin.
Do not indulge in any physical activity that involves sweating.
Do not apply makeup anywhere close to the treated area.
Those experiencing a continuous itching should apply Vaseline on brow scratches.
Keep on using the ointment (prescribed by technician) till the scratches are healed completely.
Low-Maintenance Process
You do not have to indulge in any special care routine or maintenance of your micro-bladed brows, after healing up. Besides the yearly touchup session to boost the color, you can live freely, wet them, rub them, treat them as you like (this is something you can't enjoy in eyebrows extensions). For a long-lasting effect, do not forget to wear a moisturizer with SPF 30 on your brows. Direct exposure to sun may damage the treated eyebrows.
What is the Cost of Microblading eyebrow?
Microblading eyebrows cost may vary at different places. It may charge you about $300 to $500 (it might be less or even more than it). A less experienced technician might charge less, but that may affect the quality of the procedure.
Do Find an Approved Artist or Technician!
Microblading is becoming common with time. You may find a number of technicians claiming to have a skillful hand. To avoid any undesirable situation, you are advised to search locally and find the one having a permit from the national health department. As you get into their place, ask the artist to show up his/her work through some before and after images of the previous clients. Last but not the least, make certain that the technician uses new needles on each of his clients. All these steps are essential for your well-being and safety. So, one should never feel shy in asking such informative questions before undergoing the procedure.

Conclution: Your eyebrows give an all-new dimension to your face. We recommend this beauty technique for every woman who is looking for a semi-permanent solution. Microblading works for everyone including the women with zero eyebrows resulting from chemo or alopecia and those who have naturally blonde or faint brows. So, just go ahead.